1) Who is Austree?
Austree.com.au is owned and managed by Austree Classifieds PTY LTD. We are an Australian Free classified site where you can post your ads for free. Search and post classified to buy and sell product and services. We are local Classified Company offering Free Classified ads to Australlian Community, including business ads and support. So start listing your stuff with austree.com.au, to Sell it Quick & Sell it Free.
2) Is it free to post an Ad on Austree?
Yes, it is totally free to post an ad on Austree for all categories, But our featured ads Start from $3, including business ads and support.
3) How do i Post my ad?
Posting ad is very easy and simple.If you already register, then only "sign in". Otherwise "Register" first and then "Login" and follow the instruction given below:
1)After Login, just click on "Post your ad FREE" button on top.
2)Then, select a category And sub-category for the ad you are posting and click on "GO" button.
3)Fill in all the required information in the "Submit Your Listing" page.
4)You can also upload up to 10 photos by clicking on "Add Images", after that simply click "Continue" button and preview your ad, to gain more visibilty select from one of our Premuim services or Continue Free .
5)By clicking the proceed "continue" button below, you agree to our terms and conditions.And your ad will be posted successfully.
4) How can I increase the chance of getting a good response to my Ad?
To increase the chance of getting a good response, follow these simple tips:
1) Include one or more pictures in your Ad.
2) Make the title and description as detailed as possible. For example, when selling a product include its brand, model number, condition, and features.
3) Make it easy for the buyer to pick up the item; let them know where the item is located and when you will be available.
4) Tell your friends about Austree. The more people will use Austree, the more responses you'll get!
5) In addition, Austree offers a paid Premium Services which can increase the visibility of your Ad along with support, Or simply click on "Free Bump your Ad" button to display your product on top.
5) What Does Tag Stand for in ad posting Form?
Interactive ads are everywhere these days, but when it comes to the technical process of getting an ad on the page or Search engine like Google You will need to add same words, Can be Same as your ad title so that it can be easily searched by Google or other search engines etc. Helps in top search engine rankings. So just add tags and your ad will magically rise to the top in Google and other search engines.
6) Why i didn't Get Activation Email to Activate My Account?
Some Email service providers have spam filtration which automatically spam emails without letting you or asking your permission and you never get to know who sent you the email. In order to solve this issue its best is to add persons contact email address of the person or a company you know or expect emails from in your address book. To do this please follow some simple steps listed below. To Request our email address to be added in you mail list please Contact us.
Create a new contact in Yahoo Mail
To create a new contact, click on the Add link displayed next to Contacts, right below the standard Yahoo Mail email folders.


Yahoo will open a new tab labelled Contacts, containing a form with all the fields of information you may want to add in a contact's profile: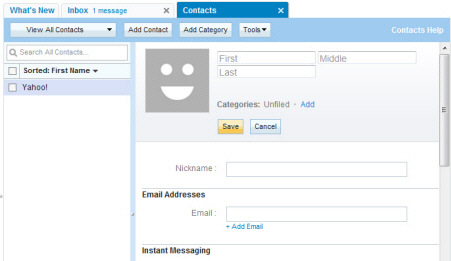 As implied by the position of the Save button, all you need to create a contact is just the person's name; in most cases however, if you go through the trouble of creating a new contact from scratch, you will probably want to enter more information, especially an email address you can use from Yahoo Mail to get in touch with the contact.
Yahoo Mail contacts tip: any contact can have more than one email address associated with him/her, and the same applies for most other fields: notice (for example) below the Email next field, a "+ Add Email" link. This link adds a new text field for additional email addresses.


Once you click on the Save button, after having entered all the information you wanted for your new contact profile, Yahoo Mail displays a confirmation message, and brings you back to your entire contact list, which now includes the contact you just created, just like that.
For Outlook.com/ Hotmail Users
Add a contact
To add contacts manually.
In People, click New.

Add contact info. If you want to add more than one email address, phone number, etc., click the icon  in that section.

Click Save.
OR Watch the video on you tube just click the link https://www.youtube.com/watch?v=DIImrTz5330
After you have set it all up just go to http://www.austree.com.au and try login, you will get error message shown below in picture, now just click on Resend activation and check your email you should have received your account activation email now.
This Picture is used for illustration Purposes only.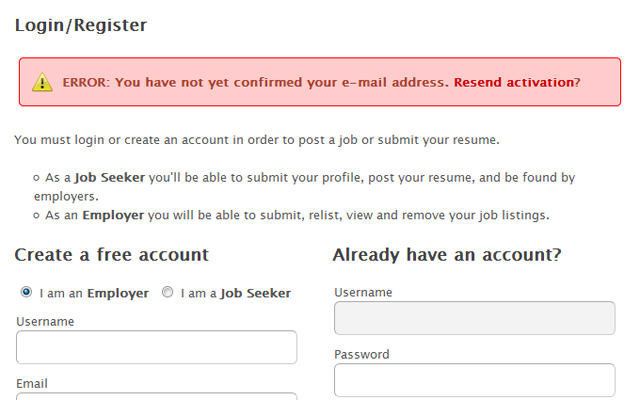 7) HOW DO I ENABLE COOKIES AND DISABLE COOKIES?
This section will tell you how to enable cookies (turning cookies on) and also how to disable them. Since cookies are maintained by your web browser, the method for enabling or disabling them will vary depending on which browser you are using.
Microsoft Internet Explorer 8.0 – 10.0
Select the 'Tools->Internet Options' menu item, and then open the 'Privacy' tab – you can then adjust the slider to block or allow various categories of cookie. Alternatively by clicking 'Advanced…' you can exercise finer control over the browser's behavior, choosing whether to accept, block, or prompt for cookies originating either on the website you are visiting (first party cookies) or originating from websites other than the one you are visiting (third party cookies, typically used by banner advertisements hosted on an advertiser's website).
Firefox 7.0 and newer
Use the 
'Tools->Options' menu item (may be under the Firefox button), then choose the 'Privacy' tab. Set the 'Firefox will:' option to 'Use custom settings for history'. Now you can choose whether cookies are enabled for websites you visit and third party websites, and if so how long they will persist. You can also use the 'Exceptions' button to override the settings for particular websites.
Firefox 3.0
Use the 
'Tools->Options' menu item, then choose the 'Privacy' tab. Here you can choose whether cookies are enabled, and if so how long they will persist. You can also use the 'Exceptions' button to override the settings for particular websites.
Google Chrome
Select the Chrome menu icon .
Select Settings.
Near the bottom of the page, select Show advanced settings.
In the "Privacy" section, select Content settings.
Select Allow local data to be set (recommended).
Select Done.
Apple Safari 5.1
Choose 'Preferences…' on the 'Settings' or 'Edit' menu (Windows) or the Safari menu (MacOS), then open the 'Privacy' tab. Now set the required cookie behaviour.
Apple iOS (iPhone, iPad)
From the home screen tap the 'Settings' icon, then choose 'Safari'. Find the 'Accept Cookies' option and set the required cookie behaviour.
Android browser
Tap the 'Internet' icon to start the browser, then press the phone's menu button. From the list of options, choose 'More', and then select 'Settings', then 'Privacy and Security'. Scroll down the resulting list and check or uncheck the 'Accept Cookies' item.
Android Chrome
Start Chrome, then open the options menu and scroll down to 'Settings', followed by 'Site setttings'. You can now choose whether to allow sites to save and read cookie data.
Windows Phone 7/8
In Internet Explorer, tap 'More…' then 'Settings'. Check or clear the 'Allow cookies on my phone' item to set the required cookie behaviour.
Blackberry
Open the browser from the home screen, then press the Menu key, followed by 'Options'. Under 'Privacy & Security' you can choose whether or not to 'Accept Cookies'. Press the Menu key and select 'Save' to save your selection.
More info:
http://www.firemailing.com/whitelist.html
Note: Disabling cookies will prevent some websites from working correctly, and may mean that you are prompted to re-enter information that would normally have been stored in a cookie.